5009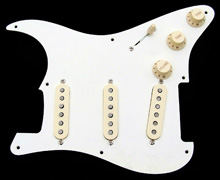 Seymour Duncan SSL-1 Pickup Set
(California 50's Set)
$250.00
5010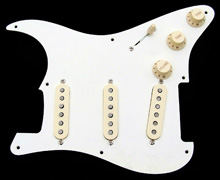 Seymour Duncan SSL-52 Pickup Set
$270.00
5013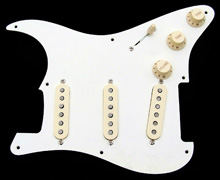 Seymour Duncan Antiquity II Surfer Pickup Set
$330.00
5018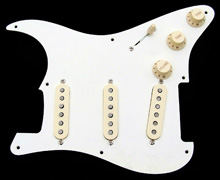 Custom Combination Set
SSL-5, SSL-1(Rw/Rp), SSL-1
$250.00
5019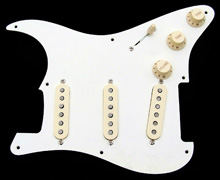 Seymour Duncan SSL-3 Pickup Set
$250.00
5020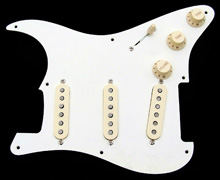 Custom Combination Set
SSL-6, SSL-2(Rw/Rp), SSL-2

This Is A Flat Pole Piece Pickup Set Typically Used With Flatter Radius Necks.
$250.00
5008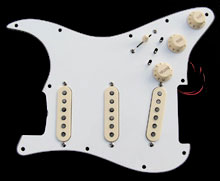 Triple Threat Custom

SSL-5T, SSL-1(Rw/Rp), SSL-1 Pickup Set
$360.00
CQ44-TPS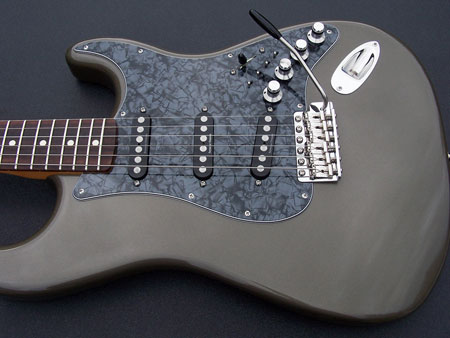 Custom Quad 44-TPS

A Completely New & Unique Design In A Custom Pickguard Assembly
There's Nothing Like This Anywhere...
$430.00
IMPORTANT INFORMATION ABOUT OUR CUSTOM BUILT COMPLETE PICKGUARD ASSEMBLIES
Typical turn-around time from order placement until your complete pickguard assembly will be ready to ship is up to 14 days.
All custom built pickguard assemblies sales are final. No returns, refunds or exchanges due to the unique nature of the customized options you select for your particular assembly. Each pickguard assembly is custom built on an "As Ordered" basis for each customer with your specific and unique assembly options selected at the time of purchase. All pickguard assemblies are completely tested to ensure 100% correct operation.