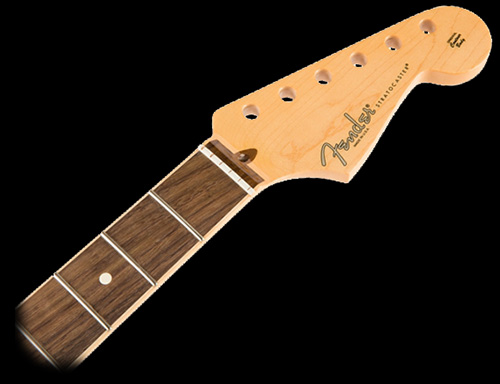 Crafted in the same facility as our U.S.-made instruments, the Channel-Bound Stratocaster® Neck combines a uniquely elegant aesthetic with a distinctively smooth fret-hand feel. The "channel-bound" fingerboard is a unique Fender innovation whereby the fingerboard is directly inlaid into the neck, eliminating the side seams while combining slick style with astounding fret-hand feel. The 9.5"-14" compound-radius rosewood fingerboard is more rounded towards the nut for easy chording, while the flatter radius in the upper register allows wide bends without fretting out. The comfortably rounded fingerboard edges and "Modern C"-shaped profile are ideal for any playing style.
Price: $569.99 (USA Shipments Only)
Specifications and Features:
Note: Neck is pre-drilled with five holes to accommodate either a traditional 4-bolt neck mounting design OR an offset (asymmetrical) 4-bolt design. Neck is compatible with American Deluxe, American Standard and most Mexico Standard bodies.
Each nut is pre-slotted with "pilot" string location grooves to make spacing a breeze when performing the final string slot filing. (Please note: Final string slot filing and nut shaping modification is required to ensure proper fit and performance.)
Measurements:
Peg Hole Diameter - .404" (10.26 mm)
Headstock Thickness - .540" (13.71 mm)
Thickness at the 1st Fret - .820" (20.82 mm)
Thickness at the 12th Fret - .870" (22.09 mm)
Recommended Tuning Machines:
Recommended String Trees: 099-4911-000 or 003-9475-049.